Mechanical harvesting of blueberries profitable for growers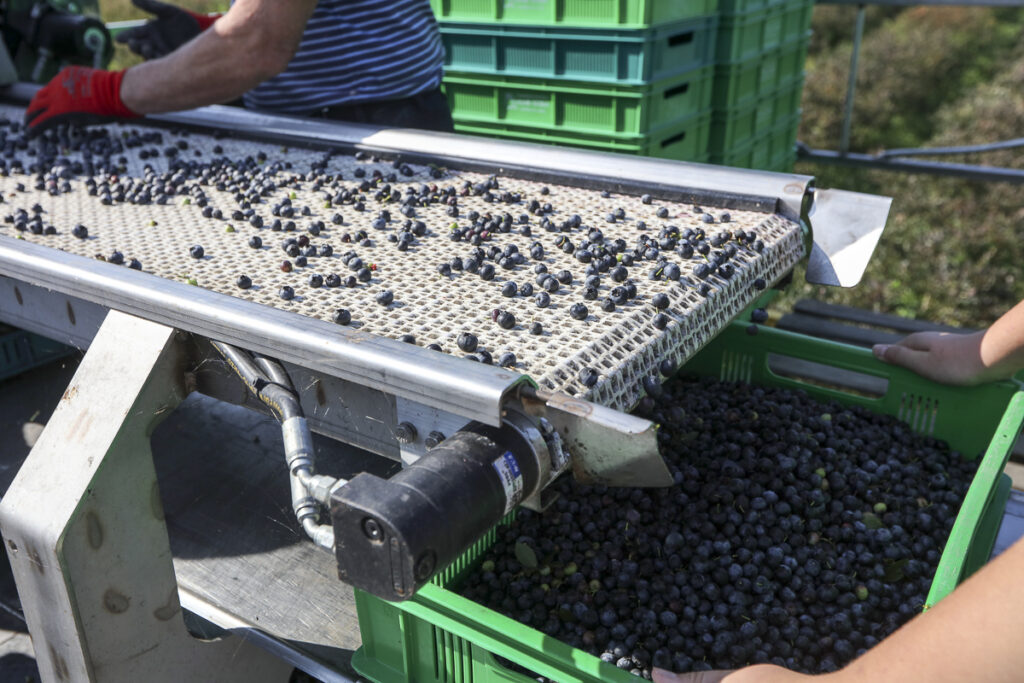 Today, more than ever, blueberries produced in the United States are being machine-harvested for fresh market.  Compared to the hand harvested blueberries, those blueberries harvested mechanically have more internal bruise damage and shorter shelf life.
Changes in harvester design, particularly in fruit catching system and surface, have reduced internal bruise damage.  However, hand harvesting still results in superior quality blueberries.  Researchers in the US have a better understanding of what causes bruise damage during harvesting.  Some are working with harvesting and packing equipment manufacturer to reduce bruise damage in blueberries.  In addition, machine-harvestable cultivars are being developed and robotic/automated harvesting technology is being explored.  This presentation will describe the relationship between bruise damage, firmness, and cold storage shelf life in hand- and machine-harvested blueberries.  New sensor technology and non-destructive sampling techniques are expected to reduce/eliminate bruised berries from being packed for fresh market distribution.
To make MH more profitable for blueberry growers, the current OTR harvesters must be modified to reduce impact damage and ground loss.  Cultivars with superior machine harvestability are being released, and the research must continue to develop equipment capable of sorting fruit with a greater precision by eliminating fruit with moderate to severe bruise damage from the supply chain and diverting to processing.  Also, proper training and pruning of blueberry bushes to maintain a small crown can increase MH efficiency.  These changes will help in making small, incremental improvements in increasing pack-outs and quality of packed blueberries.  However, to make MH blueberries to be as good of quality as HH picked fruit, radical changes are needed (e.g., superior varieties, how blueberry bushes are grown and harvested, and how the fruit is sorted).  It will take a concerted effort from growers, breeders, horticulturist, engineers, and supply chain specialists.  Here are the needs for the future:
The blueberry field: high density, low-profile bushes, grafted blueberry "trees", small bush crown to eliminate ground loss, bush architecture adapted to rapid, singular berry harvesting, containerized bushes
Fruit attributes: better suited for automation, machine harvesting, and shipping to distant markets
Harvesting: robotic harvesting system, warehouse harvesting with specialized automated or semi-automated harvesting machines, technology that will avoid damaging berries, better selectivity (no green berries and sorting out over-ripe and diseased berries in the field
Sorting and packing: technology to detect both surface and internal attributes, sort fruit by quality (large size, high sweetness, flavor, and color) for specialized markets and high prices as one US and several European blueberry distributors are doing already.
More on this subject during the lecture at the International Blueberry Conference 2022, March 1 and 2. Agenda