International Highbush Blueberry Conference online – how to get the most out of it?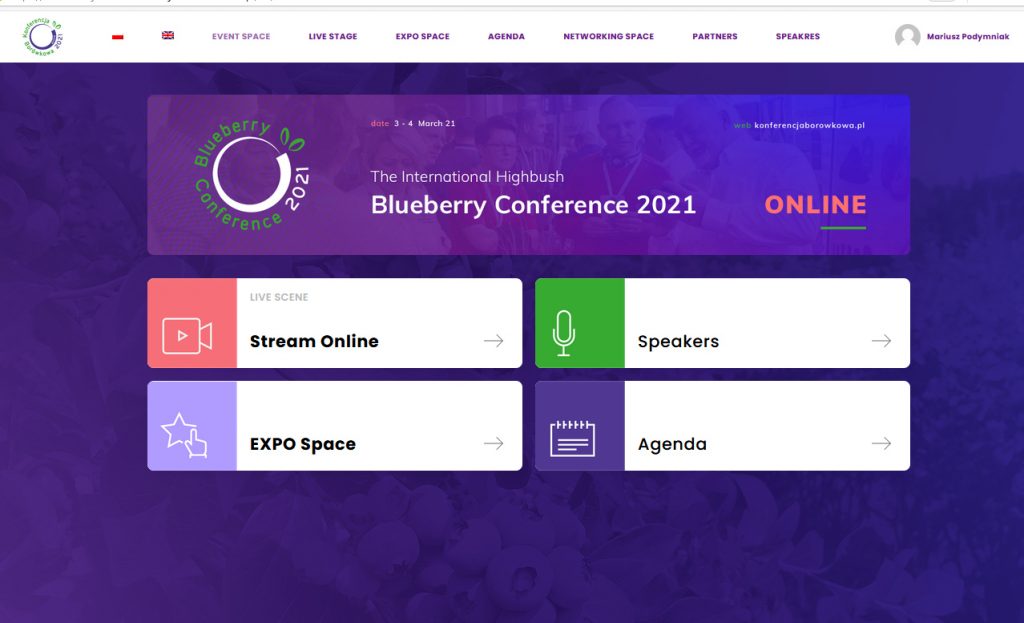 In just a few days, the International Highbush Blueberry Conference will be held online. This formula has some limitations, but also creates a lot of new possibilities. Participation in this event will provide, above all, the opportunity to gain the latest knowledge about blueberry cultivation, listen to interesting lectures, ask questions to the speakers as well as learn about the exhibitors' offers.
Step 1. Registration and ticket purchase at https://konferencjaborowkowa.pl/ You can also choose free registration, but it only provides access to the EXPO zone and does not allow you to participate in lectures. Registration – https://konferencjaborowkowa.pl/rejestracja/
Step 2. After making payment, the ticket with the access code is sent to your e-mail address. You can already enter the platform and register by entering your data. This data will be displayed as participant data. By entering your individual Code from the ticket, you can enjoy all the functions of the platform. Note: on one code, you can log into the platform from only one device!
Link to the event platform – https://konferencjaborowkowa.wydarzeniaonline.pl/
Step 3. Platform Features:
Event zone – this is the point from which the participant begins his adventure with the online event right after registration
Live Stage – this is where the main part of the event takes place (live broadcast of the lectures). Chat provides you the ability to ask questions to the speakers. Below the stage there are descriptions of the sponsors of this year's edition.
Expo Zone – this is the exhibitors 'zone where we can see the exhibitors' offers, talk to consultants via chat or video conferences. Here you can leave your business card to a selected company, or download interesting materials with the exhibitor's offer.
Networking zone – we encourage you to participate in a special meeting at 11.20 (in the break between lectures). The invited expert will tell you what the effects of weather phenomena (including hail) may have and how you can avoid them.
Agenda – in this tab you can check the schedule of lectures.
Speakers – after clicking on a speaker, his biography and the lecture he conducts with the duration of the lecture will be displayed.
Partners – after clicking on a given logotype, you will be transferred to the company's website (virtual stand)
Step 4. Ask questions during the lectures, answers will be given during discussions after the end of each lecture session. We will try to answer the remaining questions individually via e-mail.
Step 5. Use the Networking area. On March 4 at 11.20 a short lecture on Insurance as an element of weather risk management in blueberry cultivation will be conducted by an expert from Concordia Polska. After that, a discussion with the participants will take place.
Step 6. After the event, we will send you post conference materials with abstracts of all lectures, in electronic (pdf) or printed (book) version, depending on the selected option.
Step 7. There is a possibility of returning to selected lectures at any time for 10 consecutive days by logging into the event platform with your code (materials will be made available 24 hours after the end of the Conference)
#Best experts # Current topics # The most important event in the Blueberry Industry
IX International Blueberry Conference March 3-4, 2021 ONLINE