Changes in the blueberry market in Europe. 7 steps to better production!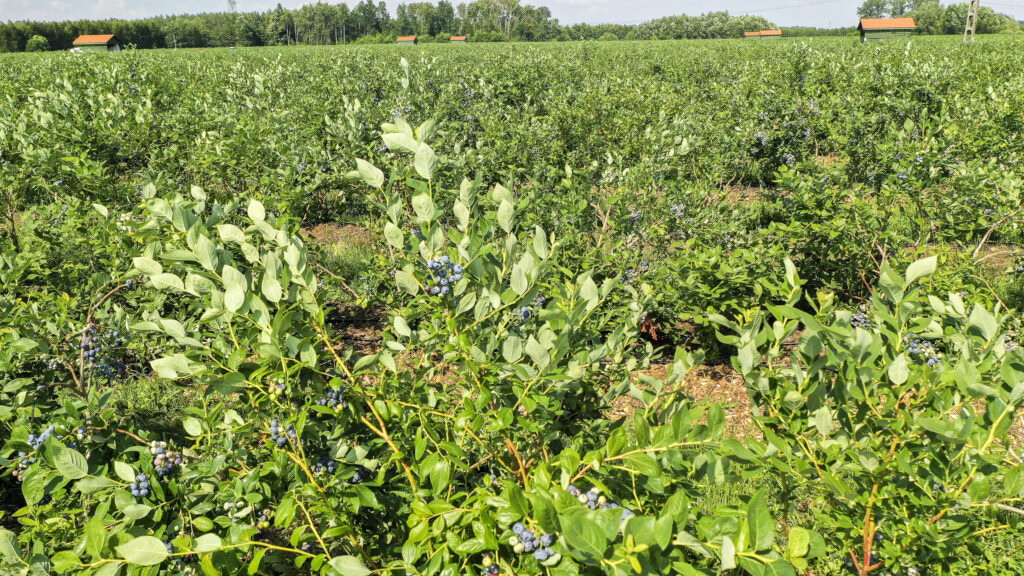 Many growers are anxious about the future of the blueberry business and the profitability of running their plantations. This results from a drastic increase in production costs, but also of growing competition on the international blueberry market in Europe. Can we talk openly about the fact that blueberry production in Europe is at risk? Not necessarily, but … The Blue Revolution is needed to strengthen the blueberry market.
Production costs are increasing
In many countries, the costs of blueberry fruit production have recently increased drastically. This is due to the inflation in all components related to fruit production: fuel, energy, human labour, fertilizers, protection products …. These factors make blueberry production costs very high. For example, in Germany, the production of 1 kg of fruit costs a farmer about 3,6-4 euro/kg, in the Netherlands  about 3,75 EUR/kg, in Poland 2,8-3,0 EUR/kg, in Ukraine 1,7-2 EUR/kg. So can growers allow fruit to be sold at lower prices than present? Of course not, because that would mean the collapse of their business.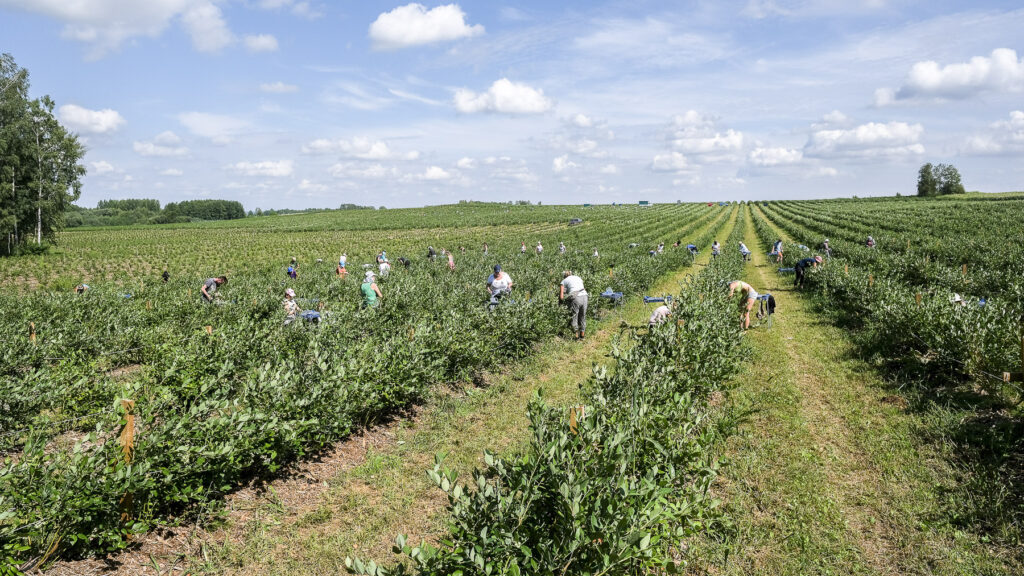 Which varieties are worth growing?
In the regions of Central and Eastern Europe, where mainly northern blueberry varieties are grown, many growers ask themselves which blueberry varieties are worth planting. Recipients require firm and durable blueberries, large fruit with a coating and crunchy. Such product is preferred by supermarkets – it is supposed to sell well, and thanks to a good shelf life, they stay fresh for a long time. Many buyers representing retail chains are currently betting on premium fruit. Why? To minimize losses and, through high quality, to mobilize customers to repeat purchases. So the question arises – what varieties of blueberry will meet the requirements of modern merchants (and consumers). Of the early varieties, the irreplaceable leader is and will be 'Duke'. Right after it, the blueberry season can be continued by the varieties such as 'Draper', 'Valor', 'Cargo' and 'Calypso'. All are characterized by large, firm fruit. Some interesting novelties are 'Megasblue' and Titanium' varieties as well as the new 4 varieties from the Fall Creek range (Fall Creek Collection), which are currently being evaluated in various regions of Europe. As a late variety, 'Last Call' is often chosen, with berries that look and taste nice despite the late harvest date (September).
What changes are necessary to improve the profitability of production?
It seems that in the current economic situation, it becomes necessary to modernize blueberry plantations so that they provide maximum yield with limited inputs. So what is worth doing? We propose 7 steps to improve the economic situation of blueberry farms. They should be implemented as soon as possible:
Changing the structure of varieties grown and adapting them to the requirements of buyers, but also production capabilities. The modern trend indicates the production of berries that are primarily large, have an attractive appearance, are durable and crunchy in taste.
Crop intensification. Among the visible trends, one can see, for example, increasing the number of blueberry plants per cultivation unit. Some varieties are planted every 0.7 m in rows, while maintaining a 3 m spacing between rows (which gives a density of 4700 plants/ha). This gives a chance to achieve full yield from the bushes faster, and thus shorten the investment return period. Similar benefits can be obtained by growing blueberries in containers. Each plant is then provided with the same conditions for growth – growth is fast and even.
Growing systems. With many new varieties with high growth dynamics and a fast rate of fruiting, finding a solution to support the shoots seem to be necessary. Otherwise, during strong winds, the shoots may be broken off. Their lying down under the weight of fruit is also not beneficial – it makes harvesting more difficult and poses a greater risk of diseases affecting the fruit.
Additional precautions. It seems advisable to implement additional precautions on plantations to ensure the satisfactory crop in a given year. This applies to plantation protection systems against frost, hail and rain. At least part (optimally half) of the plantations in a single farm should be protected against rain/hail to ensure that the crop is protected and harvested at the optimum time.
Improvement of picking efficiency. It's a matter of varieties, but also the way of cutting. Intensively cut bushes where fruiting is focused on young shoots and in their upper part are much easier to harvest, and at the same time provide large, fully grown berries. They ripen relatively quickly, which helps to intensify and at the same time shorten the harvest period (3 to 4 harvests). If an employee collects more kg per hour, they will earn more and will be interested in returning for the work next season. This brings great benefits for the planter – an experienced employee works much more efficiently than a novice.
Preparing the plantation to combine harvesting. Some plantations in Western Europe are already prepared for combine harvesting. In the case of many varieties, e.g. 'Duke', 'Draper', 'Liberty', 'Valor', 'Cargo', 'Calypso', it is possible to collect all the berries with a harvester (2 or 3 passes), which, after being sorted on sorting lines, can be successfully offered on the fresh fruit market. Another option is to use a harvester to harvest the last remaining fruit, which are sent to the processing market. At least for now offered prices are quite attractive for such goods.
Implementation of additional solutions to reduce costs. A good example is the installation of photovoltaic panels. Their use during the summer allows for significant energy savings needed for irrigation, cooling fruit or maintaining a social base for employees. In case of blueberry farms (similarly to all other berry farms), it is the period of the highest energy production from photovoltaic panels that is simultaneous to the highest energy demand. Such an investment can pay off very quickly.
Blueberry growers face many challenges. We will talk about them during the 11th International Blueberry Conference in Poland (March 9-10, 2023). It will have a two-day formula . The first day will be held at the Mazurkas Hotel located in Ożarów Mazowiecki near Warsaw. During the conference knowledge will be provided in 16 lectures by the best blueberry experts (Program). The second practical day is a meeting at a blueberry plantation. There all the participants will have an opportunity to witness machine demonstrations as well as bush pruning workshops.
The International Blueberry Conference in Poland is considered the most important blueberry industry event. It's worth being there! We wish to encourage you to come to Poland on March 9 and 10.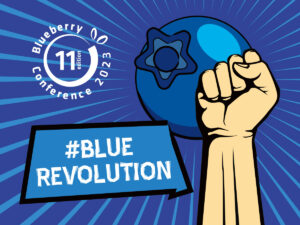 IloveBlueberry