Modern Blueberry Cultivation – Borowkowe Factory 2023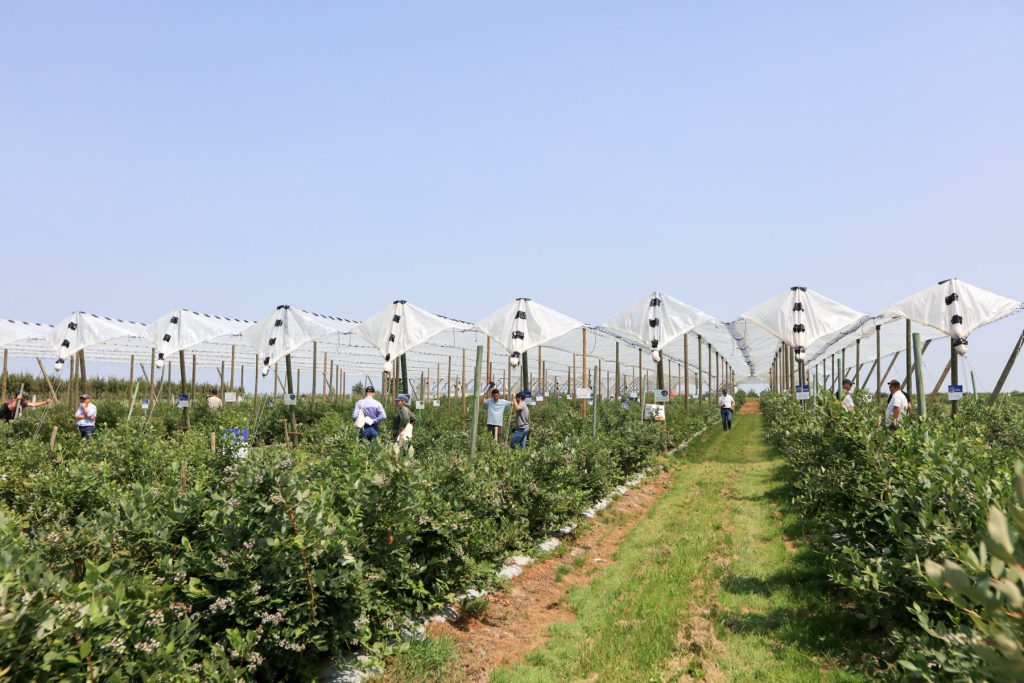 Borowkowe Factory project this year is rich in various observations and research in the field of blueberry cultivation. We evaluate cultivars (19 of them), plants from various nurseries, fertilization and protection programs as well as various cultivation techniques. The effects of these activities will be presented on September 8 during the final meeting of Borowkowy Factory 2023.
The only such place
Borowkowe Factory is undoubtedly the only such place in Poland (and probably also in Europe) where you can see such a rich collection of northern blueberry varieties (high chill). In total, we have collected a series of 19 blueberry cultivars in our collection. In order of ageing, these are: 'Duke' (FC, Kusibab, Schrijnwerkers), 'Draper' (FC, Schrijnwerkers), 'Top Shelf' (FC), 'Blue Ribbon' (FC), 'Megas Blue' and 'Titanium ' (Schrijnwerkers), 'Valor' (FC), 'Calypso' (FC, Schrijnwerkers), 'Clockwork' (FC), 'Bluecrop' (Kusibab), 'Cargo' (FC), 'Chandler' (Kusibab), ' Liberty' (FC, Kusibab), 'Last Call' (FC), 'Aurora' (FC, Kusibab). This year, our collection was enriched by 4 more varieties included in the Fall Creek Collection catalogue: ArabellaBlue® 'FC14-062', LunaBlue® 'FC12-205', LoretoBlue™ 'FC11-118' and PeachyBlue 'ZF08-029'. This year is also the first when we can assess the yield potential of these varieties. Fruits are picked and weighed, their parameters such as size, shelflife and firmness are also assessed. All these studies and observations are conducted by Dr. Paweł Krawiec, who will share his reflections from this season during the meeting.
Borowkowe Factory program includes a number of practical information about products and solutions dedicated to modern blueberry cultivation. What protection measures and fertilizers should be used, when and how? How to improve soil fertility? How to ensure optimal pollination of flowers and get large, fully-grown berries? Instead of looking for answers to these questions yourself, it is worth using ready-made, proven solutions that we have developed in our project.
We cordially invite you to a practical meeting devoted to modern blueberry cultivation. September 8, 2023 see you in Karczmiska!
Place: Farm of Dr Paweł Krawiec, Karczmiska Drugie, Owocowa Street 16 (near Lublin)
Admission to the meeting is paid 25 euros/person
Program of the Borowkowe Factory meeting – September 8, 2023
10.00-11.00 Registration of participants
11.00-11.20 Official opening
11.20-11.40 Should we plant new varieties? Expert discussion
11.40 – 13.40 – Visiting the Borowkowe Factory collection
Evaluation of this year's season – Dr Paweł Krawiec, Horti Team
Growing on beds. Which fabrics work best – Tomasz Poliszak, Agrimpex
Balanced blueberry fertilization and a simple method of fertigation – Michał Wojcieszek, Yara
Yielding of varieties in the collection – Marcin Wereszczuk, Fall Creek
Plant health and safe production – Krzysztof Krupa, Sygenta Polska
Irrigation systems for beds/containers – Lukasz Głuszcz, Milex
Pollination improvement – new possibilities of using solitary bees – Przemysław Kapka, Osmia Future
13.40 – 15.40 Visiting other lots – production plantations ('Duke', 'Bluecrop')
Improving fertility of the soil/substrate, or how to increase the level of humus in the soil – Dezyderiusz Mietlicki, Radoslaw Lazny, Carbohort
New fertilizers for blueberry fertilization – Diana Wieczorek, ICL
Is it worth organizing PYO– Marcela Krawiec, Horti Team
Fertilization and biostimulation – stable crops in every season – Bartlomiej Drzazga & Dorota Furmaniak, Timac Agro Polska
Correct diagnostics as the basis for proper protection – Karolina Felczak Konarska, Fertico
Gray mold under control – Przemyslaw Kostrzewski, BASF
Is it worth having a metho station on your farm – AgroNetPro
Diseases and pests of blueberries and the possibilities of protection against them – Tomasz Gasparski, Bayer Polska
15.40 – 17.00 Barbecue together and behind-the-scenes discussions
Welcome to Poland! Registration link
Modern Blueberry Cultivation